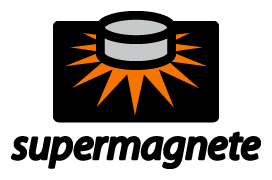 Two posts down and over a year and a half ago I wrote a review of my purchase from Supermagnete.ch. Now I'm suddenly the designer of Supermagnete's new logotype! I entered
their logotype competition
before the summer and out of about 1000 entries by 320 partcipants my logotype was by the end of June selected as the first prize winner.
What an honour!
Some time this autumn I think they will start using the new logotype publicly.
Get more details and see some of the other entries over at
Supermagnete.ch
.
Thank you Matthias Ackermann and the rest of the Supermagnete team for choosing my entry as the winner!